Lens Sigma 12-24mm f/4.5-5.6 II DG HSM (Canon) - EN
Details

Parent Category: Photography
Category: Cameras & Lenses
Published: Friday, 08 January 2016 22:45
Hits: 1429
Sigma 12-24mm f/4.5-5.6 II DG HSM (Canon)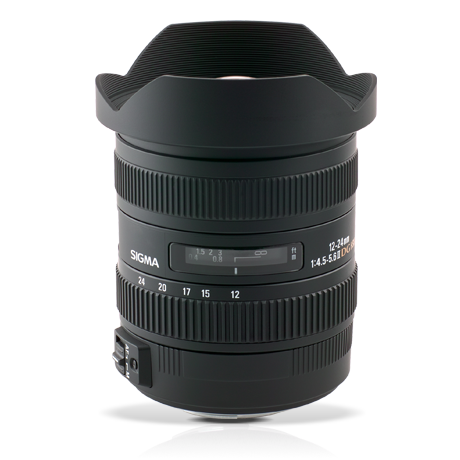 Sigma 12-24mm f / 4.5-5.6 II DG HSM (Canon) is a wide-angle lens from Sigma is the widest one lens that you can purchase for a full frame camera.
This objective appeared in 2011 as a successor of the famous Sigma AF 12-24mm f / 4.5-5.6 EX DG HSM.
Of course, this objective also fits a camera with an APS-C / DX sensor.
Nevertheless, this is especially important for owners of a camera with a full frame sensor, a unique zoom lens.
What is striking is the strong vignetting at 12mm and fully open aperture.
The vignetting increases with smaller apertures quickly.
The corner sharpness seems to f / 4.5 is not quite optimal, further test work could show whether this actually comes through the lens, or by the relative difference in distance between the viewing angles and the center of the picture.


Because of the curved front lens Sigma 12-24mm II DG fits no traditional lens cap on the lens.
This Sigma solved by an extra loose ring that you slide to the fixed lens hood, lens cap which fits.
If you hold in your hands for the first time this lens and only the lens lens cap gets, then you might be surprised by black borders in the image at a focal length of 12 mm.
The convex front lens and the solid flower-shaped lens hood is quite striking.
This lens hood not only reduces any glare, but also serves to protect the convex front lens.


The lens is made from a combination of high quality plastic and metal and has a nice matte black finish.
The mount is made of metal.
It is very compact and made of light material.
Moreover, the Sigma 12-24mm II waterproof, making it suitable for use in extreme weather conditions.
The lens feels very solid.
The zoom ring is somewhat heavy, but you get used quickly and you know for sure that this lens does not suffer from creepen, undesirable change of the focal length.
The length of the lens remains unchanged when zooming.
The drive of the HSM autofocus is very quiet and very fast.
Since the lens uses internal AF, the front lens does not rotate.
Lateral chromatic aberration is typically a problem that many wide-angle lenses suffer so also these Sigma 12-24mm.
Technical specifications
Mount: Canon EF
Lens Type: Zoom wide
Focus Mechanism: Auto Focus (motor in lens)
Zoom (wide): 12mm
Zoom (tele): 24mm
Aperture (wide): 4,5
Aperture (tele): 5,6
Wide-aperture telephoto: f/4,5-5,6
Lens Type: Ultrasone motor
Focusmechanisme: Auto Focus (motor in lens)
Focus Engine: Hyper Sonic Motor
 Colors: Black
Weight: 630g
Lens charateristics
Lens Elements: 17
Lens Groups: 13
Picture angle in degrees (35mm): 122-84.1
Picture angle in degrees (aps-c): 92.1-54.8
Number of diaphragm blades: 6
Smallest aperture: f/22
Maximum aperture: f/4.5
Minimum focusing distance (cm): 28
Maximum magnification: 1st period: 6.4
Filtermaat: na
Diameter x Length (mm): 87 x 120.2
Hood: barrel-shaped, built-in
Also see Johfrael MyWiki Lens Sigma 12-24mm f/4.5-5.6 II DG HSM
External links