Zelfbouw project ZEUS - NL
Details

Hoofdcategorie: ROOT
Categorie: Computer Tech - NL
Gepubliceerd: zaterdag 21 februari 2015 15:37
Hits: 2089
ZEUS Zelfbouwproject PC werkstation
Nieuwbouwproject ZEUS  (April 2006)
PC Werkstation.
Bijgaand mijn in 2006 gebouwde eerste Zelfbouwproject: Een Peronal Computer werkstation genaamd ZEUS
Het ging er me voornamelijk om een stijlvolle, makkelijk modificeerbare en vooral snelle PC in elkaar te zetten. De keuze voor de kast was snel gemaakt, daarna een AMD 64 bits dualcore uitgezocht en een goed moederbord.
De rest zijn componenten welke voornamelijk op prijs/prestatieverhouding zijn geselecteerd.
Onderstaand dan ook voornamelijk specs van de onderdelen.
Met hulp van ScapS _/-o_ en SteejV@N _/-o_ die wat meer ervaring in modden hebben als ik. [thanx!] 8)

Algemene Specs ZEUS
- OCZ Modstream 520W Powersupply
- Amd Athlon 64 X2 4200+ Manchester S939 22GHz 2x512KB Boxed
- DFI Lanparty UT RDX200 CF-DR. Xpress200 PCI-e. Sound. LAN. SATA II. RAID. 1394
- RAM Memory: OCZ 1GBx2 2GB PC3200 DDR CL2 . 4002048ELDCPE-K
- Maxtor DiamondMax 10 250Gb 7200rpm ATA133 16Mb
- Sapphire Radeon X1800 XL 256 MB DDR3 PCI-e. 2xDVI
- NEC 16x dvdrw black ND3550 DL sw
- Logitech Media Keyboard Black US Layout
- Logitech MX1000 Laser Cordless Mouse Zwart
ZEUS Zelfbouwproject PC werkstation


De kast; Coolermaster Stacker:

Specificaties:
-Afmetingen: 580 x 225 x 595 mm.
-Gewicht: 14,7 kg
-Materiaal: Steel Chassis and Aluminum Alloy panels
-Case Color: Brushed Aluminum (with black finishing)
-Motherboard Support type: Standard ATX, Extended ATX (12" x 13") and BTX




De voeding of powersuply; OCZ Modstream 520W:




Het Moederbord; DFI Lanparty UT RDX200 CF-DR.


Specificaties:
- AMD socket939 Athlon FX55+ & Athlon X2 CPU supported
- ATI Crossfire Multi VPU Technology support
- Karajan Audio(Theater like7.1/8ch Audio)
- Dual Gigabit LAN
- 100% Japanese Capacitors/ 4 phase PWM
- Magnetic-levitate fan on chipset heatsink
- UV sensitive slots
- EZ-on / EZ-touch onboard switch button
- Silicon image3114~RAID5 ready
- CMOS reloaded
- All New Genie BIOS for extreme overclocking!

PROCESSOR:
Amd Athlon 64 X2 4200+ Manchester S939 22GHz 2x512KB Boxed

Specificaties:
-Categorie Proc. AMD Socket 939
-Platform Athlon 64 X2 4200+
-Coretype Manchester
-L1 Cache 128KB + 128KB
-L2 Cache 1MB x2
-Kloksnelheid 2.2Ghz
-Bussnelheid 2Ghz
-Koeler Ja
-Garantie 1 jaar carry-in





Videokaart
ATi Radeon X Serie / Sapphire Radeon X1800 XL 256 MB DDR3 (PCI-e, 2xDVI)

Specs
RADEON X1800 XL - 500MHz Core
- 256MB of GDDR3 - 1000 MHz Memory
- 256-bit memory interface
- 16 Pixel Pipelines
- PCI Express x16
- RAMDAC - 2x400MHz
- FullStream (Video-deblocking) - Real, divX, WM9
- Single slot cooling solution
- Maximum 3D Graphics Resolution of 2560x1600
- Hydravision 3 Dual Display support
- Shader Model 3.0
- SuperAA
- HDTV Compatible (YPbPr)
- DirectX® 9.0c Support and OpenGL Support




Het bouwen:



Moederbord + processor + voeding.
Alle kabeltjes onder het MoBo door en netjes gestrapt



Harddisk 250Gb + DVD-R/W erin, eerste test-start



Ook het Ram geheugen 2Gb er in geprikt.
Videokaart: Sapphire Radeon X1800 XL gemonteerd en aangesloten.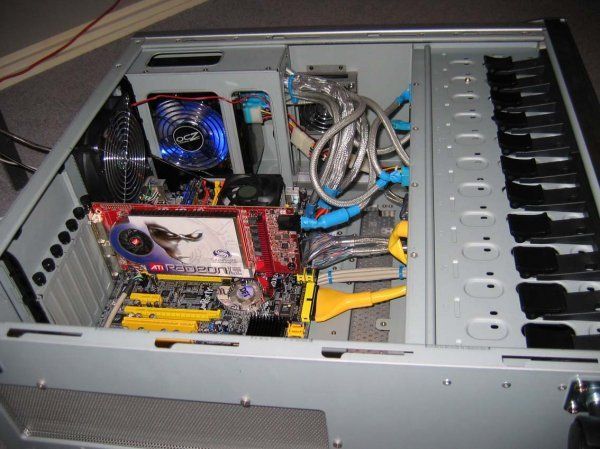 Floppydrive en laatste kabels aangesloten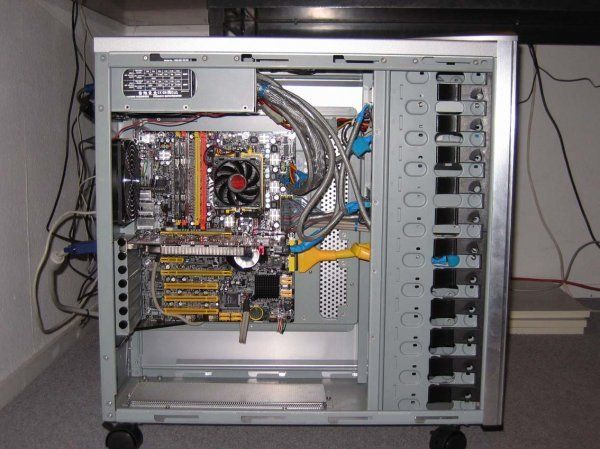 Kast kan dicht en is klaar voor gebruik!



Zijkant erop, met de wieltjes makkelijk verplaatsbaar onder bureau, en draaien maar :Y)


Benchmark Results
3DMark Benchmark
3DMark Score: 7140

GT1 - Return to Proxicon 30.2 fps
GT2 - Firefly Forest 21.9 fps
GT3 - Canyon Flight 35.2 fps
CPU Test 1 1.8 fps
CPU Test 2 2.9 fps

Rosetta@Home BOINC Benchmark
AuthenticAMD
AMD Athlon(tm) 64 X2 Dual Core Processor 4200+
Measured floating point speed 3040.12 million ops/sec
Measured integer speed 9227.59 million ops/sec