Home build project ZEUS - EN
Details

Parent Category: ROOT
Category: Computer Tech - EN
Published: Saturday, 21 February 2015 15:37
Hits: 1501
ZEUS Home build project PC workstation
Home build project ZEUS  (April 2006)
PC Workstation.
My first home build Personal Computer project in 2006: a Personal Computer Workstation called ZEUS
It was my intention to build a stylish, easy modificational and fast PC. The choice for the case was made easely quickly, and next an AMD 64 bits dualcore and a suitable motherboard.
The rest of the components I did choose on price vs performance proportions.

Underneath the specifications of several parts.
With help of ScapS and Stefan.

General Specs ZEUS
- OCZ Modstream 520W Powersupply
- Amd Athlon 64 X2 4200+ Manchester S939 22GHz 2x512KB Boxed
- DFI Lanparty UT RDX200 CF-DR. Xpress200 PCI-e. Sound. LAN. SATA II. RAID. 1394
- RAM Memory: OCZ 1GBx2 2GB PC3200 DDR CL2 . 4002048ELDCPE-K
- Maxtor DiamondMax 10 250Gb 7200rpm ATA133 16Mb
- Sapphire Radeon X1800 XL 256 MB DDR3 PCI-e. 2xDVI
- NEC 16x dvdrw black ND3550 DL sw
- Logitech Media Keyboard Black US Layout
- Logitech MX1000 Laser Cordless Mouse Zwart
ZEUS Homebuildingproject PC workstation


De kast; Coolermaster Stacker:

Specifications:
-Measurements: 580 x 225 x 595 mm.
-Weight: 14,7 kg
-Material: Steel Chassis and Aluminum Alloy panels
-Case Color: Brushed Aluminum (with black finishing)
-Motherboard Support type: Standard ATX, Extended ATX (12" x 13") and BTX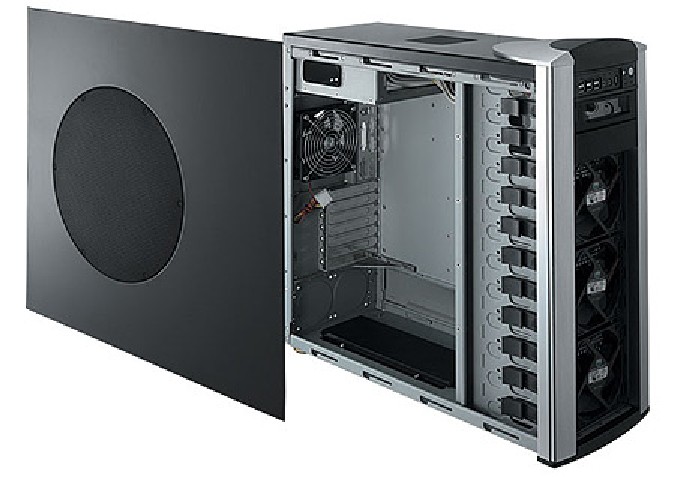 The powersupply; OCZ Modstream 520W:




The Motherbord; DFI Lanparty UT RDX200 CF-DR.


Specifications:
- AMD socket939 Athlon FX55+ & Athlon X2 CPU supported
- ATI Crossfire Multi VPU Technology support
- Karajan Audio(Theater like7.1/8ch Audio)
- Dual Gigabit LAN
- 100% Japanese Capacitors/ 4 phase PWM
- Magnetic-levitate fan on chipset heatsink
- UV sensitive slots
- EZ-on / EZ-touch onboard switch button
- Silicon image3114~RAID5 ready
- CMOS reloaded
- All New Genie BIOS for extreme overclocking!

PROCESSOR:
Amd Athlon 64 X2 4200+ Manchester S939 22GHz 2x512KB Boxed

Specifications:
-Categorie Proc. AMD Socket 939
-Platform Athlon 64 X2 4200+
-Coretype Manchester
-L1 Cache 128KB + 128KB
-L2 Cache 1MB x2
-Kloksnelheid 2.2Ghz
-Bussnelheid 2Ghz
-Koeler Ja
-Garantie 1 jaar carry-in





Videocard
ATi Radeon X Serie / Sapphire Radeon X1800 XL 256 MB DDR3 (PCI-e, 2xDVI)

Specs
RADEON X1800 XL - 500MHz Core
- 256MB of GDDR3 - 1000 MHz Memory
- 256-bit memory interface
- 16 Pixel Pipelines
- PCI Express x16
- RAMDAC - 2x400MHz
- FullStream (Video-deblocking) - Real, divX, WM9
- Single slot cooling solution
- Maximum 3D Graphics Resolution of 2560x1600
- Hydravision 3 Dual Display support
- Shader Model 3.0
- SuperAA
- HDTV Compatible (YPbPr)
- DirectX® 9.0c Support and OpenGL Support




Building process:



Motherbord + processor + powersupply.
All cabltes underneath the MoBo and straped



Harddisk 250Gb + DVD-R/W inside first test-start



Ram memory 2Gb attached.
Videocard: Sapphire Radeon X1800 XL installed.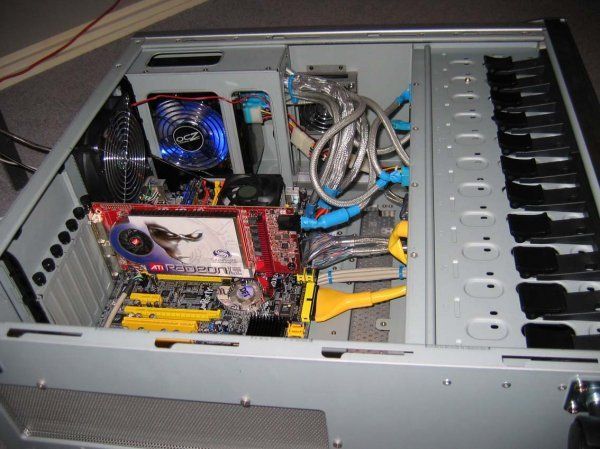 Floppydrive en last cables attached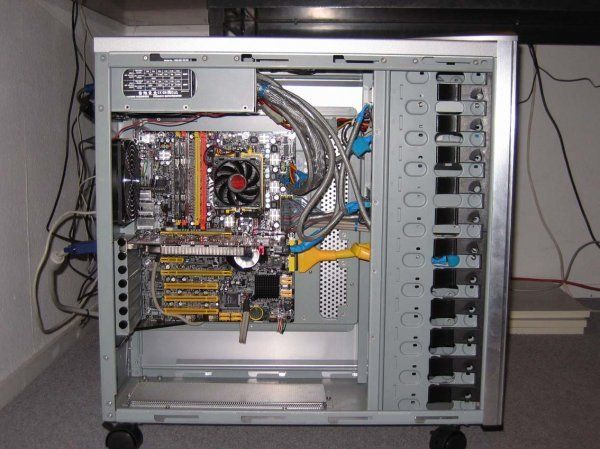 Case can be closed for usage!



Sideboard on, with wheels easily for moving.


Benchmark Results
3DMark Benchmark
3DMark Score: 7140

GT1 - Return to Proxicon 30.2 fps
GT2 - Firefly Forest 21.9 fps
GT3 - Canyon Flight 35.2 fps
CPU Test 1 1.8 fps
CPU Test 2 2.9 fps

Rosetta@Home BOINC Benchmark
AuthenticAMD
AMD Athlon(tm) 64 X2 Dual Core Processor 4200+
Measured floating point speed 3040.12 million ops/sec
Measured integer speed 9227.59 million ops/sec